Sports Camps, football, basketball, rugby, woodwork, cake, coffee, pilates, careers advice, training…the second half of 2019 has been one of activity and steady progress at Spirit in Sport HQ. The experience of the last year, as well as over 15 years of sports ministry, now sees us poised at the starting blocks of an exciting race, ready to 'Go!'.
As a local Christian charitable organisation, we are relatively small and dependent to some extent on charitable provision – whether in people, equipment, facilities, or finance. But in experience and capabilities, infrastructure and facilities, and in our hearts and relationships built, we are growing. Positioned well by the training field of 2019, we are now here, with our knee on the ground, head looking up, and baton in hand; prepared to run the race of 2020.
We are here for the whole community, whether you have a faith or none at all, and regardless of your background and circumstances. Our belief in a living and loving God powerfully inspires us to do our best in serving our neighbours and friends, using sport to bridge gaps, serve needs, and get the people moving.
2019: Second Half Round-Up
Our Touchline Summer 2019 looked back at the first half of 2019 before looking forward to the second half, and the start of our 3×3 Basketball league, the introduction of Pilates Missionary to our HQ, as well as a Big Screen showing of England v Argentina in the Rugby World Cup – live.
Despite a very promising start, the Rugby World Cup didn't end for England as many may have hoped. However, in contrast, our hopes and expectations presented in the Summer's 'Touchline' were met and surpassed for the second half of 2019, with a finishing straight which included the pilot of a new Home Education Programme and welcoming our 2,600 visit from the local community this year.
After The Heat of August
Following the summer's sports outreach events at North End Baptist Church, St Judes Church, and Paulsgrove Baptist Church (as well as providing equipment at our Project Coordinator Andy's wedding in August), we finished the summer season supporting St Judes' 'Feeding the 5,000' event at Southsea Castle Fields.
We balanced out the 5,000 battered cods and bread baps being served up, with our all-age and ability family sports activities including slalom racing, target shooting, and throwing games against the clock.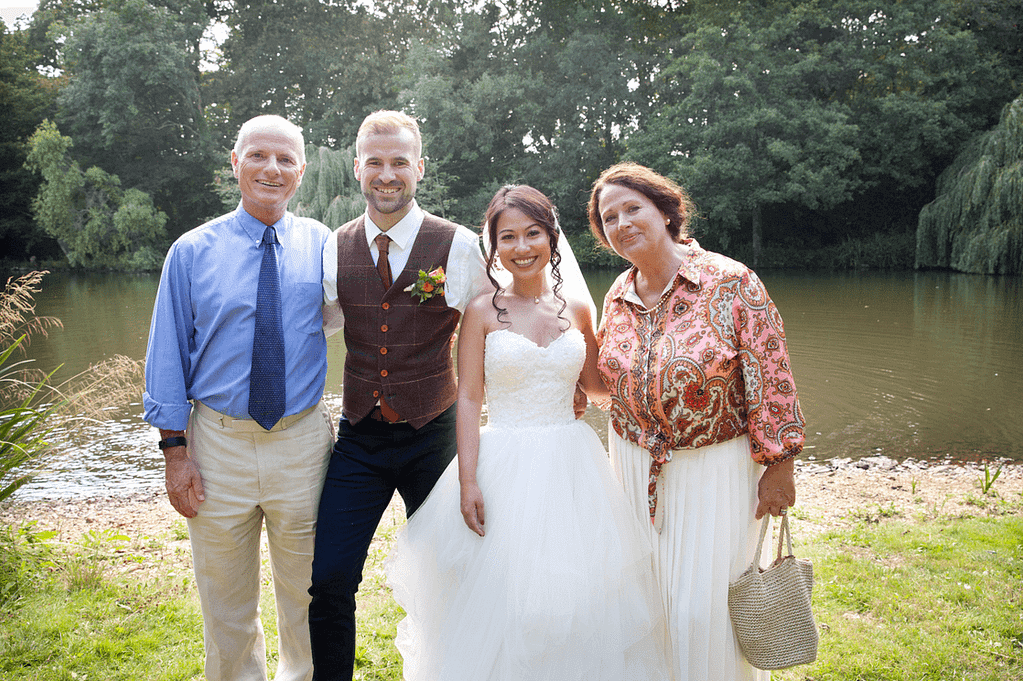 October 2019 Sports Camp
The SiS HQ welcomed not only 20 children a day on October 28th & 29th. But also, a bumper crop of volunteers made it a smooth operation with the addition of staff from HSBC to our current base of volunteer sports coaches including Lydia, Adora, Ben, Lucy, SiS alumni Lexi, Gareth, and our new intern Tim.
Through warm ups, hockey, football, and cooking on the first day, and rugby, basketball dodgeball, and the rope challenge on the second, the October Sports Camp delivered the message of 'Acceptance': 'being welcomed or received as adequate and suitable', to a very talented and attentive group of 6-15 year olds.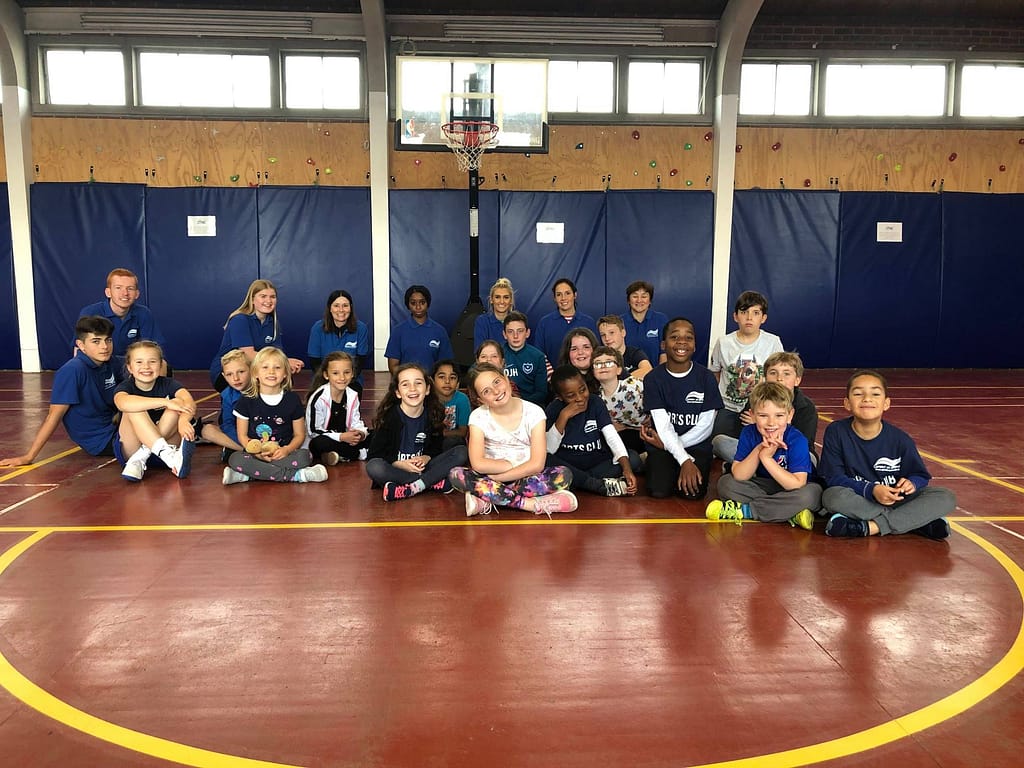 Accept one another, then, just as Christ accepted you, in order to bring praise to God. Romans 15:7.
More recently, a week which started with a Home Education Sports Taster Session with 17 children and their parents (more on this later), was completed by welcoming Portsmouth's Oasis Church and their 'Limitless' Youth Group. Spirit in Sport teamed up with Ross, Andy and the Oasis team to help deliver their message of 'Fun is Our Spirit'.
As well as fun, we made sure our spirit was also 'challenge' as these young people were quickly taken through our range of activities, with the help of basketballs, tarpaulins and tubes, straws and skittles, plastic cups, pipes, hockey sticks, and shark infested waters. And of course, the climbing wall challenge!
Monday Night Football
A huge congratulations to Harbour for winning the Monday Night 5-a-side Football winter league! But also a Special shoutout to Boots Elite for great games and going unbeaten on the final night of the season at Portsmouth High School.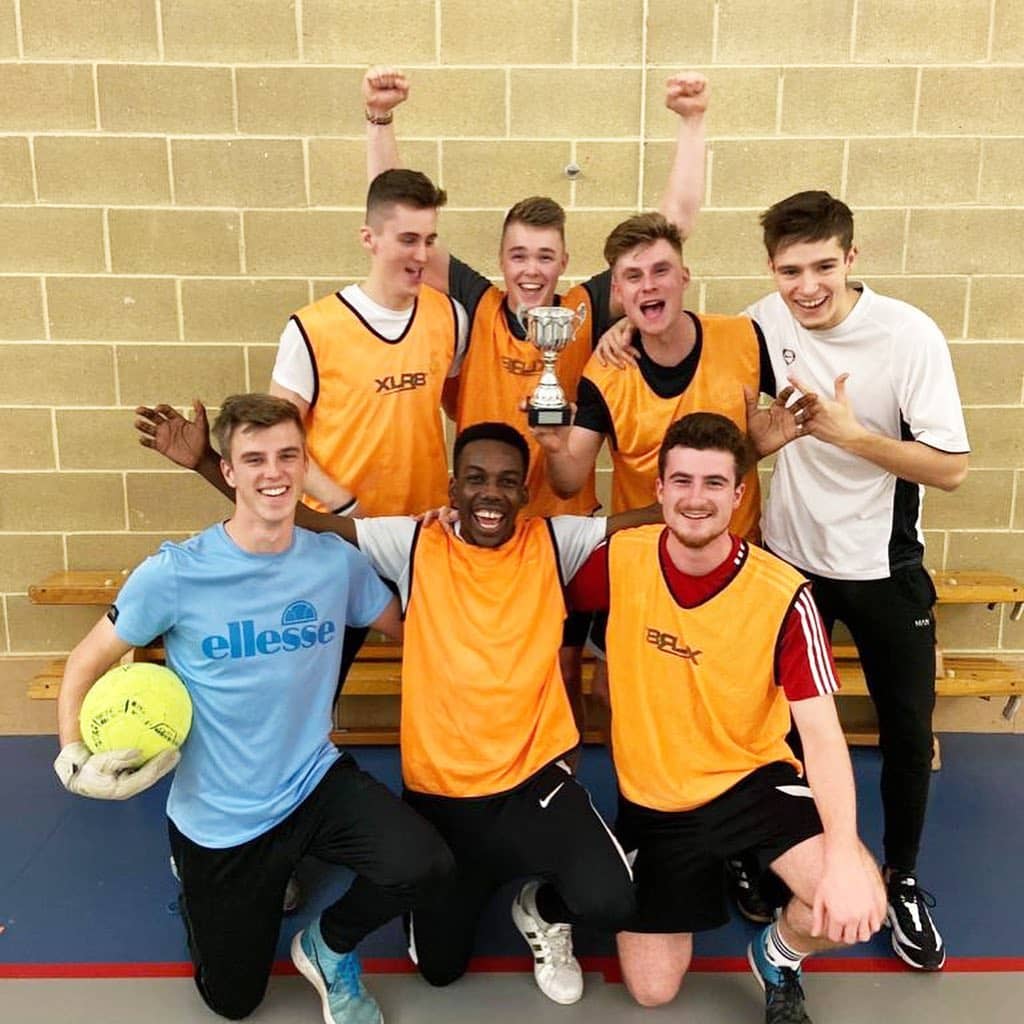 We are grateful to Phoebe, our volunteer who joined us through her church 'Cornerstone'. As well as helping welcome visitors to the HQ, Phoebe has been developing how we process and report our sports league fixtures, results and tables and keeping our social media accounts active. Be sure to follow us on social media for news, photos, and results, including at our Facebook page and Instagram account.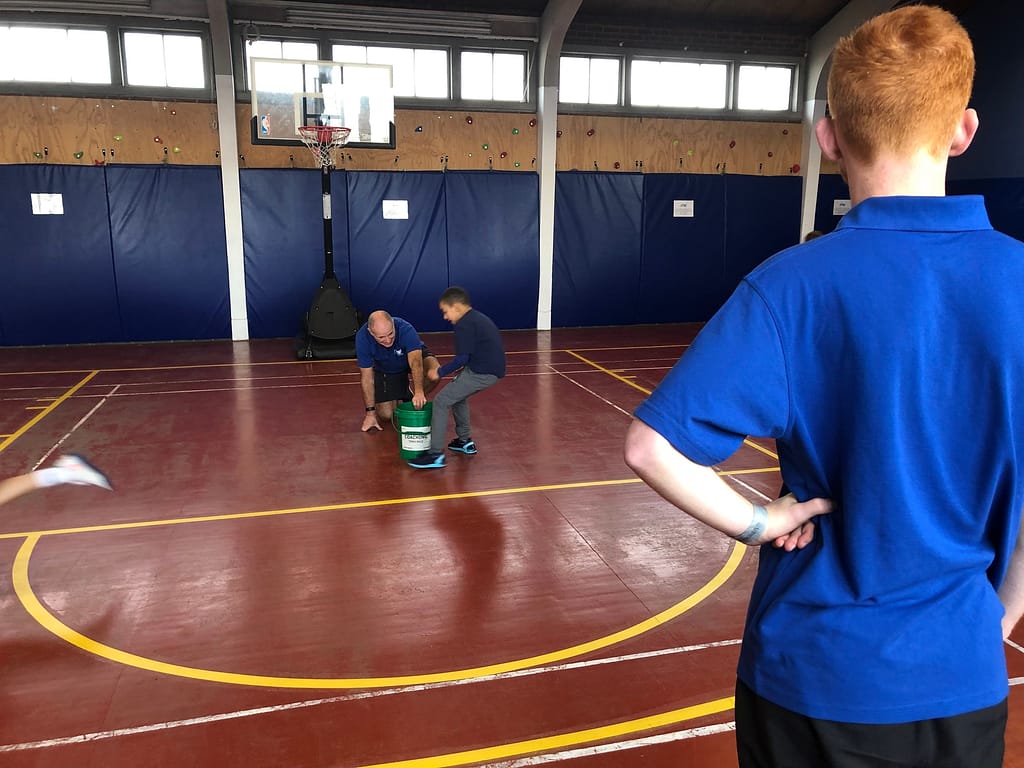 As well as Phoebe, we welcomed new intern Tim to our regularly attending volunteer team. Read more here about the exciting challenge ahead for Tim and our internship programme.
3×3 Basketball
Since October we have really enjoyed the combination of basketballs and banter, and hoops and heated battles every Monday night. Nineteen different faces have showed up in our trial period, and there is no way we want to stop there!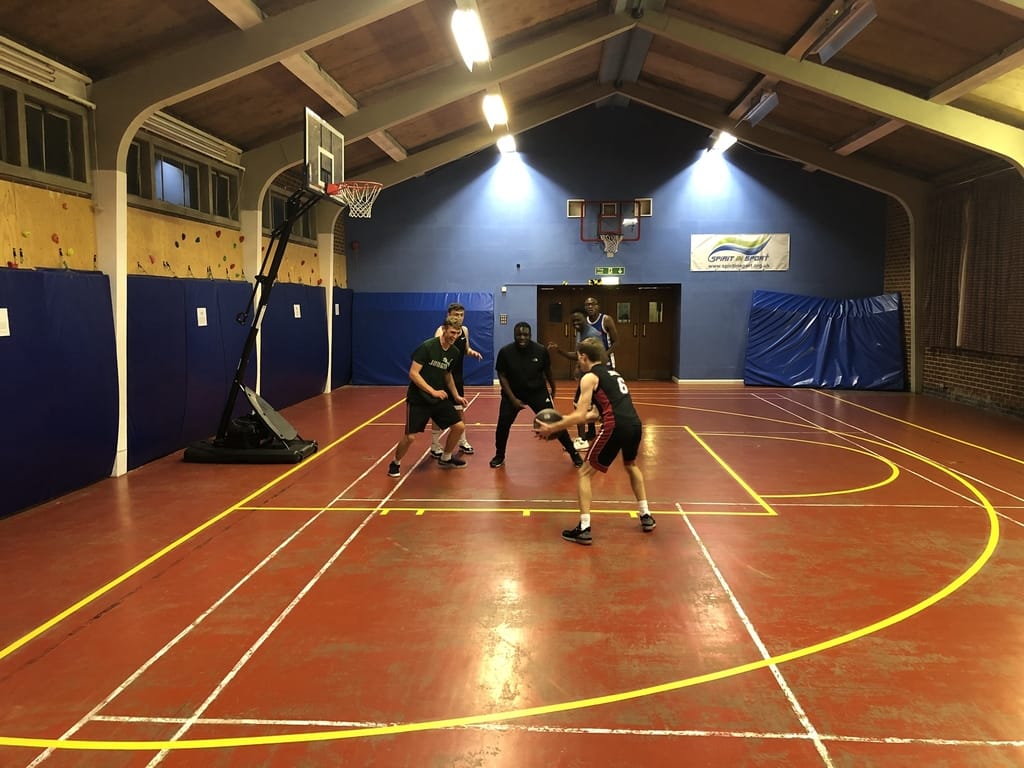 We love the combination of competition and friendliness from all of the players and mixed rotational games each week, and so will be continuing into the new year. Everyone age 15 plus is welcome, of all abilities and both males and females.
Rugby Breakfast
It started with so much promise! A 'belly busting' breakfast and big screen were enjoyed by a good mix of friends, family, and new acquaintances from our local community, and complemented by a confident performance from the England Rugby team against Argentina on 5th October.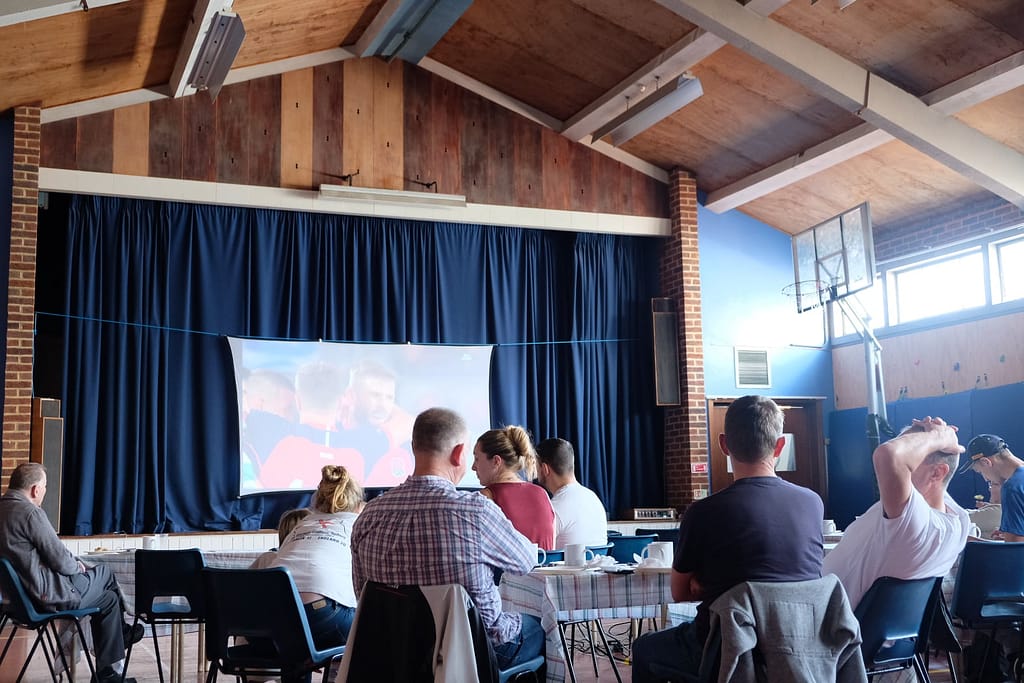 After the success on the pitch and in our hall, we were tempted to run more breakfasts in the subsequent weeks as the England games kept falling on Saturdays. We will never know if choosing not to show the final at our HQ this time was the error which meant favour was not given to our national squad against the deservedly victorious South Africans this time around.
But there's always the Six Nations…
Touch Rugby
With Japan fresh in our minds and turkey in our stomach, the torrential rain didn't stop a great day out at our annual Boxing Day Tag Rugby in Southsea. There was exceptional handling, good play, soggy spectators and heaps of fun! Same again next year (with drier weather).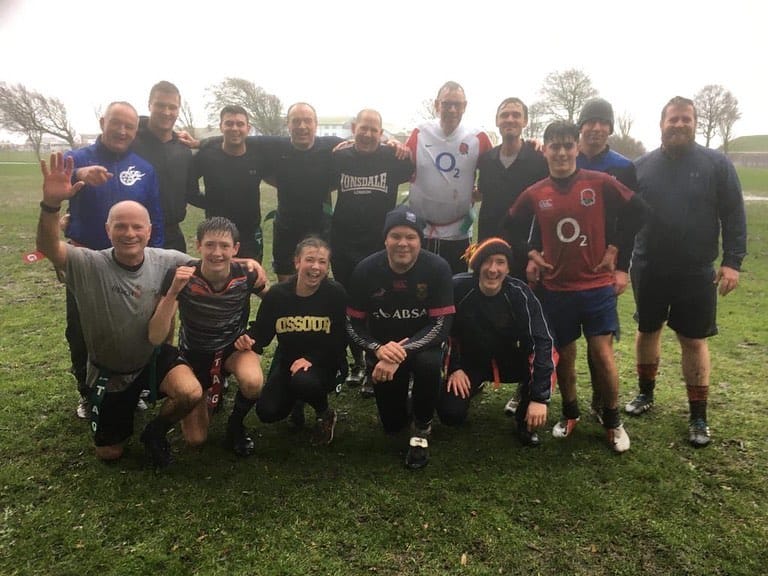 Building Community with Sport
Spirit in Sport is first and foremost a sports ministry. Sport is a powerful way of bringing communities together, bridging differences, and helping it grow stronger whether socially, physically, or spiritually.
To help in our mission, we recognise the value of supporting people not just through sport but also around it. Together with our sports camps, leagues, and outreach, we also provide non-sport based community activities directly and through partnerships across the city, to help build a sense of belonging, friendship, wellbeing, and purpose, and combat social isolation.
Men's Shed
Our sports activities are most successful when embedded in a safe and friendly community atmosphere that is open to all.
While open to men of all ages and backgrounds, we continue to find it most resonates with retired men, especially who have a background in the trades, and while not always, those who can be at risk of loneliness and isolation, or at least feel the benefit of spending time in social and productive spaces.
We were very excited to receive the news of a successful grant application in October with the Montagu Neville Durnford & St Leo Cawthan Fund, provided through Hampshire and Isle of Wight Community Fund (HIWCF).
The additional funds, along with a new year lease from our landlords at Immanuel Baptist Church, has helped us begin to open up the Men's Shed from one day to every weekday. The fund will come with a special focus on making the space accessible to local retired naval personnel.
Since we shared the news with the guys, we have seen an even greater increase in activity coming out of our small workshop space. From Pilates equipment to bird tables, renovated projector stands to wooden play pieces for local care home story time outreach with Portsmouth Cathedral, a prayer blackboard for Portsmouth School Pastors and prayer box for Immanuel Baptist Church, dolls houses, basketball hoop system repair and toiler roll and towel holders for our office toilet…whatever is asked of them, our men cannot help but deliver!
We were also very humbled to receive a cheque from Highbury Players, after being guest charity for their first play this year. The money raised will help go towards our exciting ambition to extend the popular climbing wall beyond just one side of the hall.
Community Cafe
1990s prices, timeless company! Wednesday's regular Community Cafe ran again for most weeks from September up until the last one of the year on 18th December, serving an average of 25 guests each time.
We are really grateful for the kind voluntary support of our cafe team, including volunteer Megan who even used one morning to fundraise for MacMillan. Megan worked hard to make sure the cake counter was full, coffee machine was on stand by, and customer service was up there with the best, as always, as she raised a good amount for the worthy cause.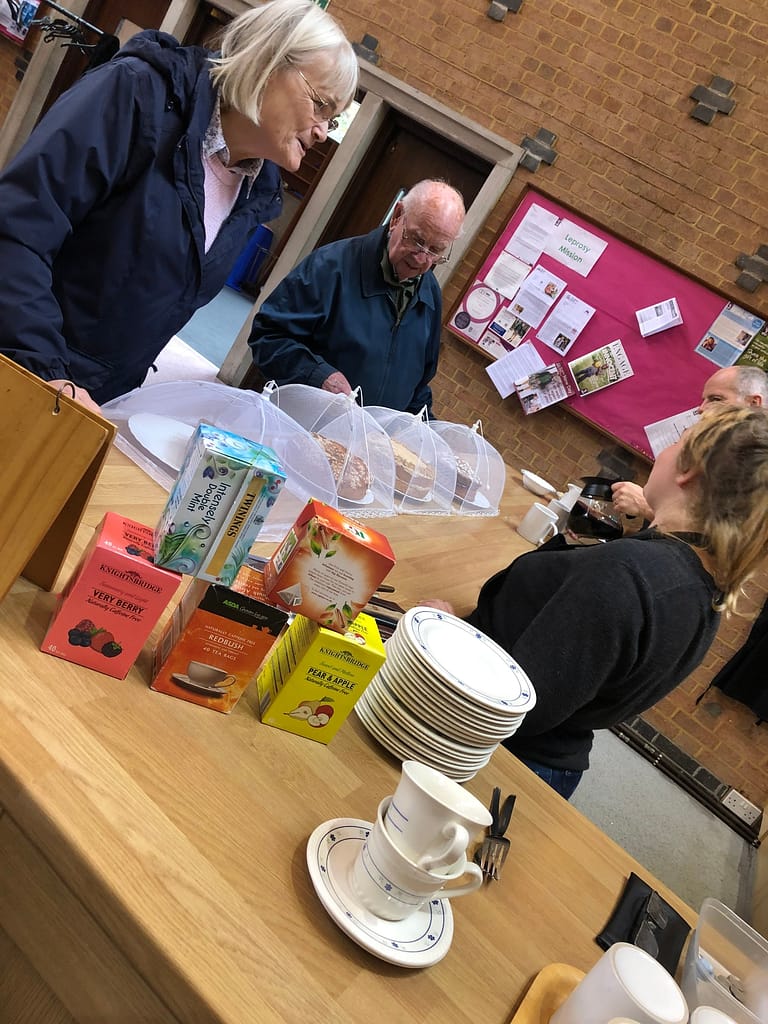 Partnerships
Pilates Missionary aims to make Pilates more accessible to the community, by providing its physical and mental wellbeing benefits to participants of Spirit in Sport's other activities.
We are pleased to report that Pilates provider 'Our Body Our Temple' has established a good client base at the workshop at SiS HQ. This bedding in period for OBOT at SiS HQ gives us confidence of a strong partnership provision on offer for the community in 2020, under the name 'Pilates Missionary'.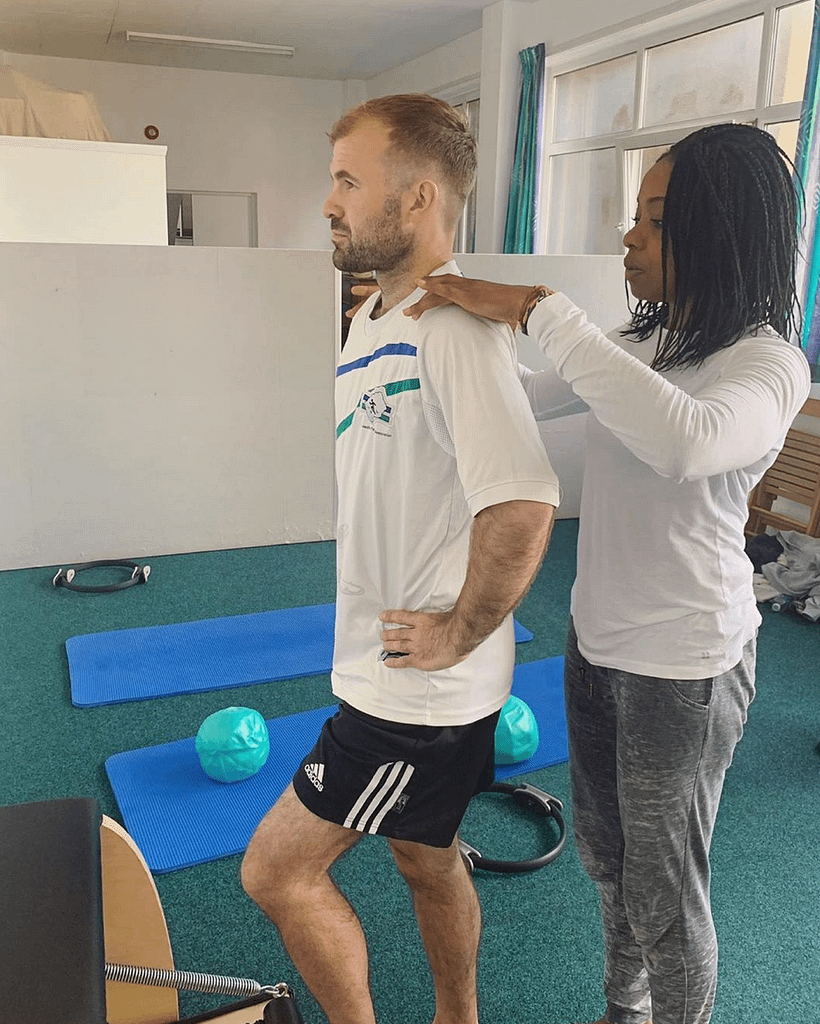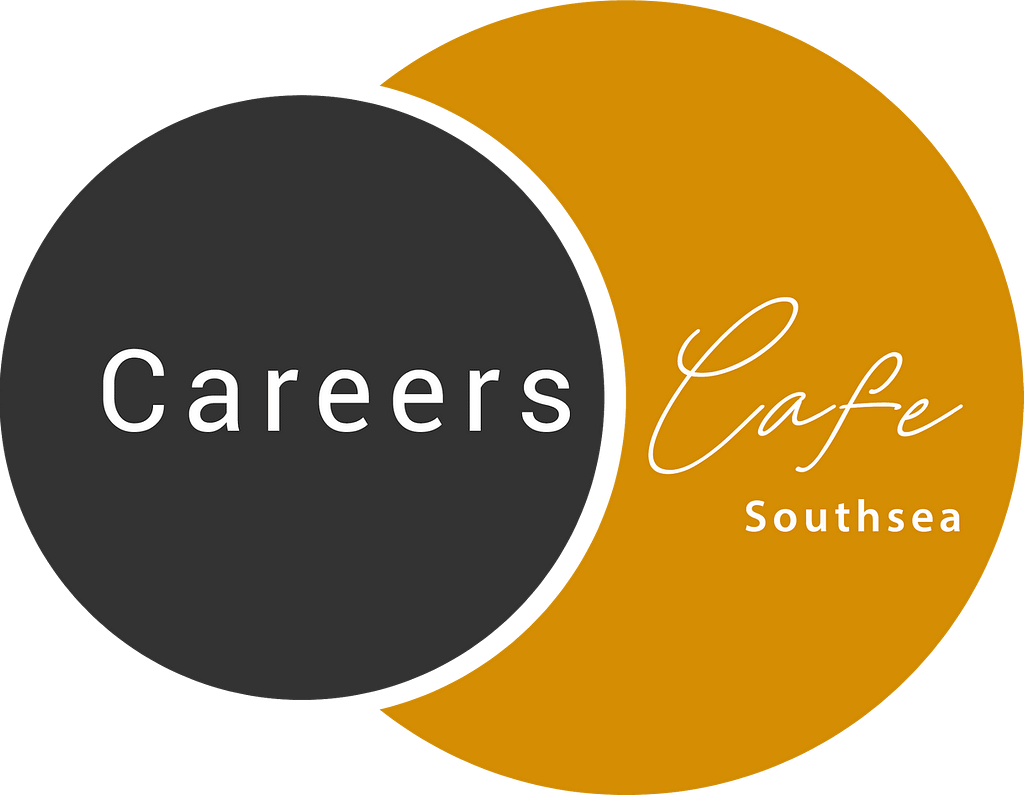 The Careers Cafe Southsea project brings family-friendly careers guidance and support to the local community. The partnership between Spirit in Sport, Alan Bullock Careers, and AX Studio aims to provide one-to-one, peer group and family guidance sessions for participants of Spirit in Sport activities, as well as occasional talks in intimate and relaxed settings. Careers Cafe Southsea is also in the process of building an online support base featuring case studies of local people who have gone on to experience interesting careers in different fields.
A group of volunteers from different churches across Portsmouth and Gosport gathered together at the SiS HQ on a Saturday in October, as we teamed up with Portsmouth School Pastors for official training by The Ascension Trust.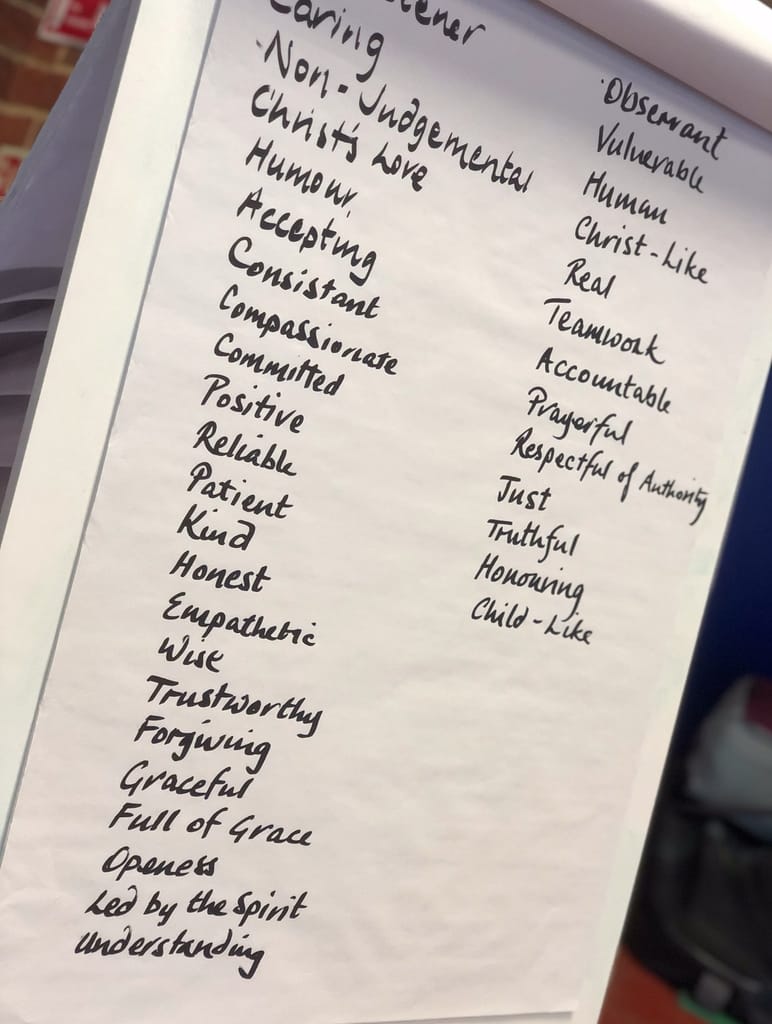 On both sides of the harbour, schools have Christian volunteers visit them to spend time listening to children, and offering encouraging words of support in a non-judgemental way.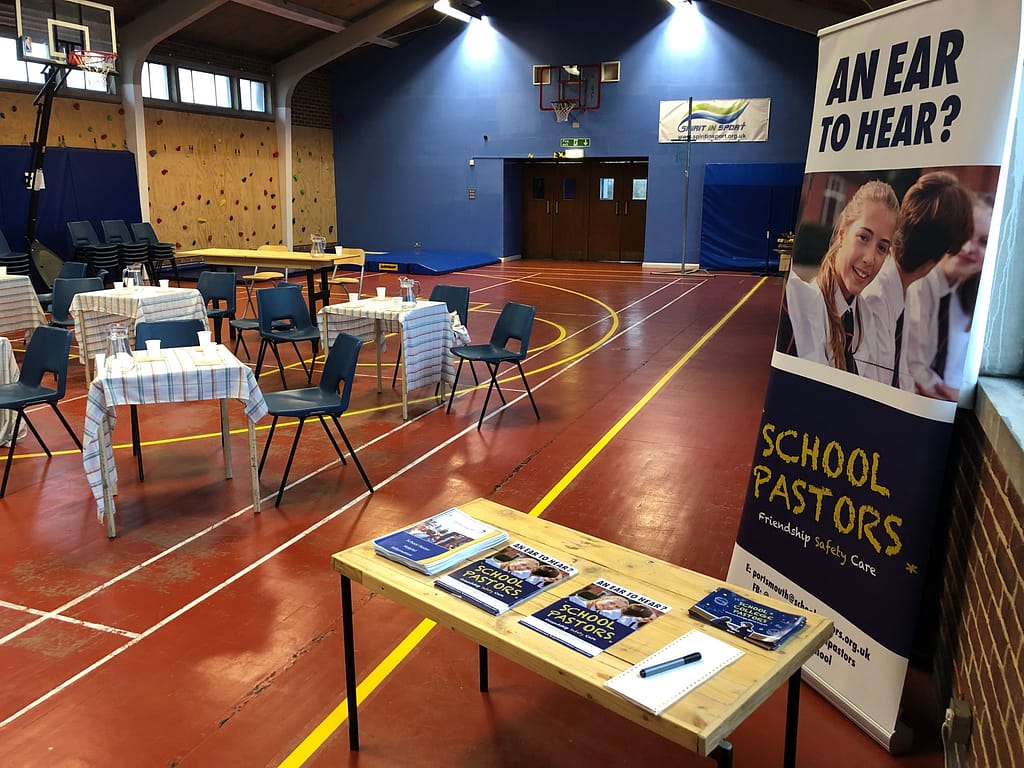 We love to partner with such organisations that work across churches to serve with the heart of Jesus where the need is great.
The Race of 2020
Waiting for the starting pistol to sound always brings with it a mix of nerves, hope, and excitement. If it is anything like the last year, 2020 will be over in a flash! So with baton in hand, we are already envisioning the race of 2020. Amongst the sports and community activities and partnership already mentioned, here are some other anticipated highlights of this year to come:
New Year Lunch
We were grateful to receive a small grant towards the end 2019 to support a community lunch in the new year. While full plans are yet to be put I place, we envision this support enabling us to start the new year with a hub of activity for people from across the community, who access our services.
Home Ed Sports
Our first day back to work is TUESDAY 7TH JANUARY 2020. And we really are 'starting with a bang', running the first of 6 weekly sports sessions for children and families who home educate in the city.
Following our taster day in December, we are confident that there is good potential in providing a weekly semi-structured sports programme.
For six weeks, up until February half term, we will be running an hour session starting at 11am. Up to 20 children will be taken through warm-ups, sports drills, competitions and challenges which all carry with them our core principles.
Over this first term we hope to complete a programme which build character and team working skills, increases fitness and activity, and helps train our future leaders.
In June we hope to conclude a good few terms of 'Home Ed Sports' with a Home Ed Sports Day.
Volunteer Sports Coaches
A year in Spirit in Sport would never be right without its package of Sports Camps. This year we will be aiming to run our popular February, Easter, May and October half-term sports camps, as well as a special summer mini-Olympics. We hope to continue to strengthen existing members and invite new members to our team of volunteer sports coaches across the year.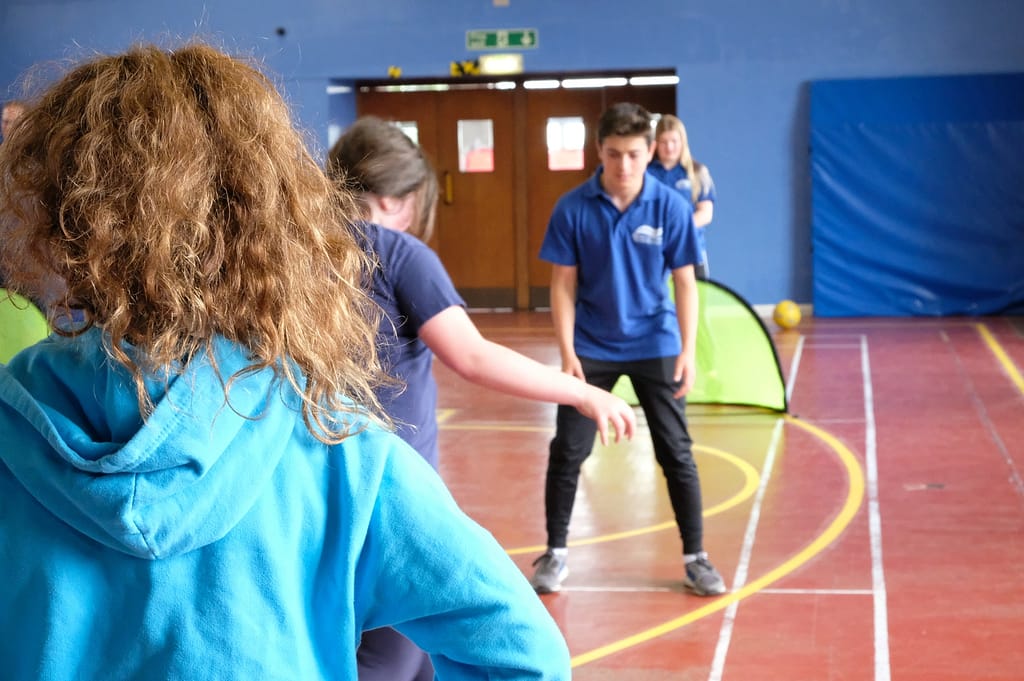 Website
We have been building on our new website over 2019, and expect added features to come in 2020. Tools such as a sports equipment browsing and ordering page and a new interactive timetable will add to recent additions including our donations page and payments features which are currently undergoing trialling.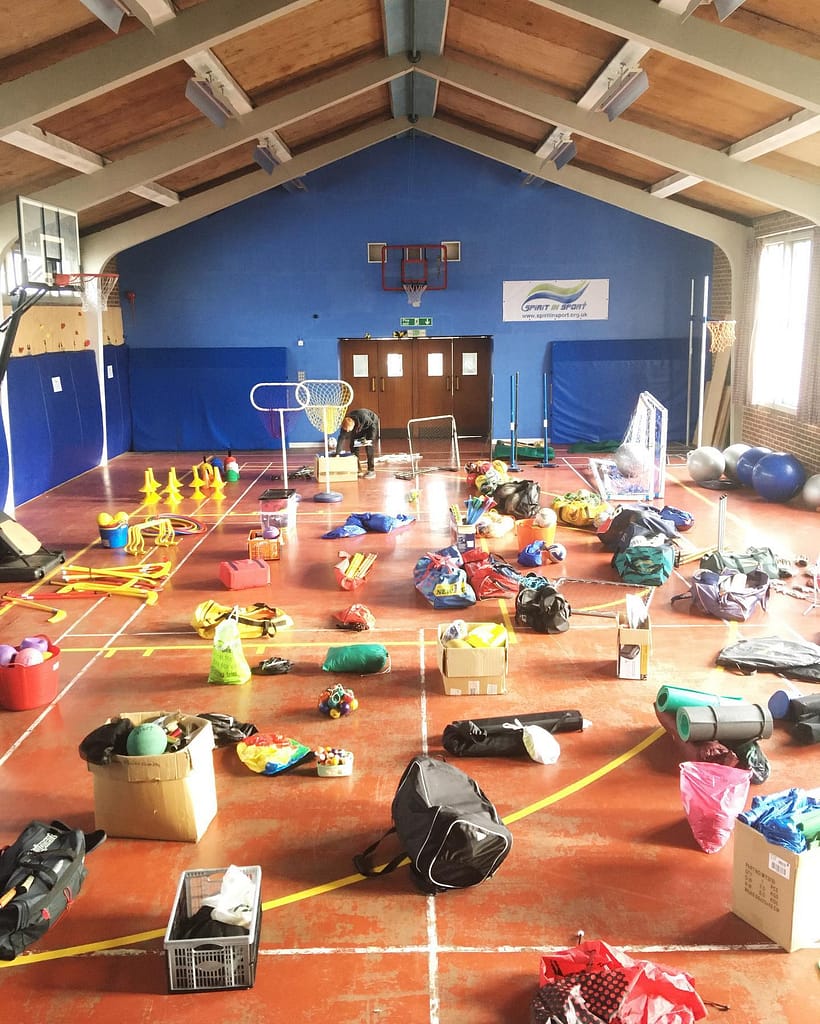 The Wider Church Community
We are excited to be joining up with churches and other Christian organisations across the city and beyond in April as part of the 'Just One' event.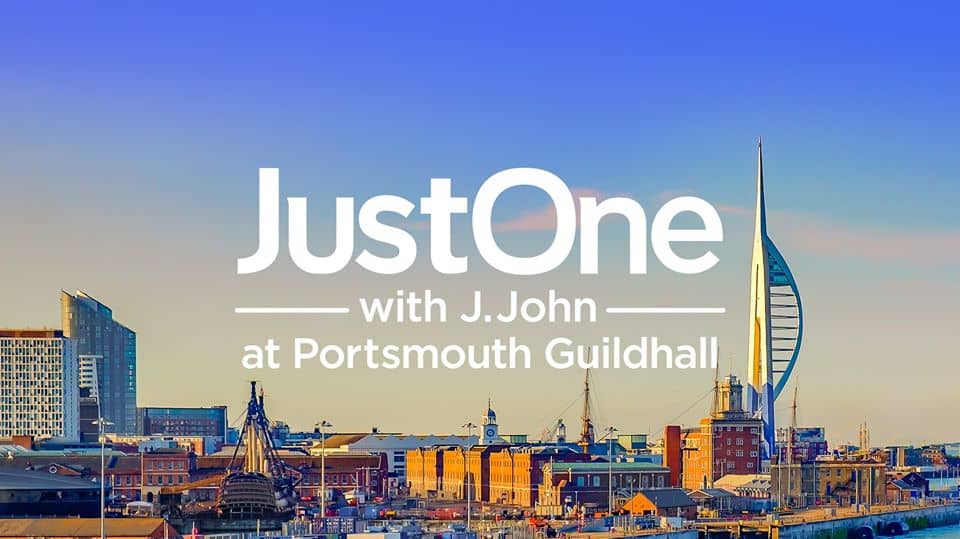 Just One gives everyone on Portsmouth the opportunity to visit the Guildhall to hear the Gospel – the good news of Jesus Christ – in a fresh and entertaining way. Speaker J John will be presenting alongside a time of worship music. Every Christian will be encouraged to bring a friend along to hear more.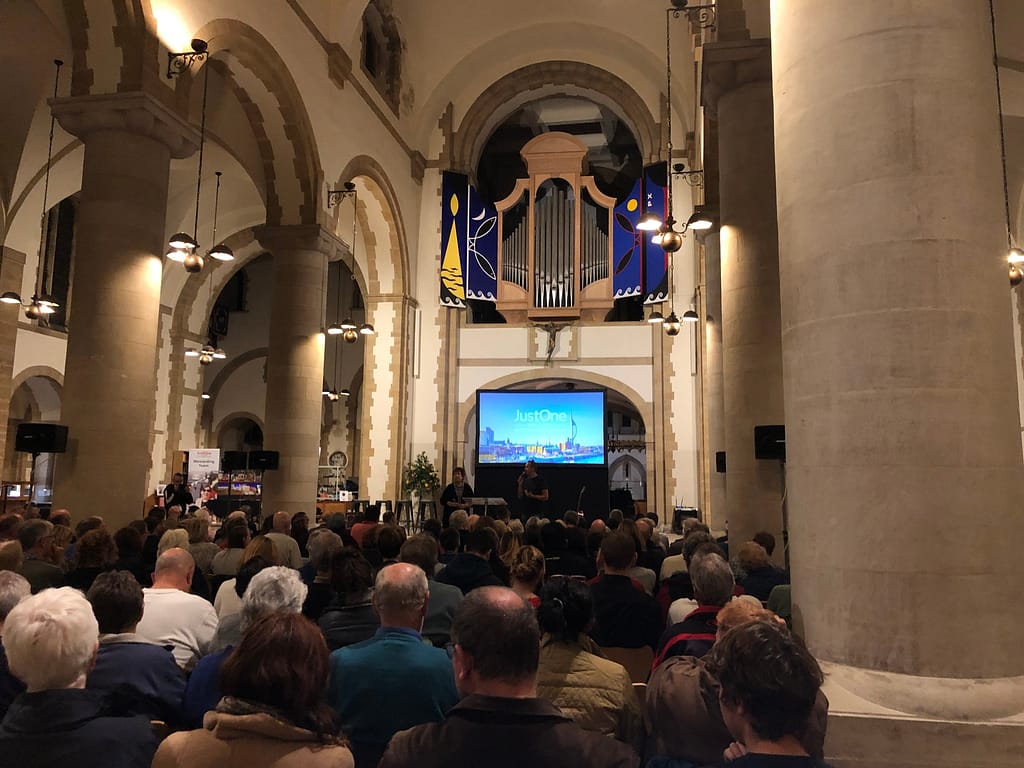 Thank You and Happy New Year!
We hope you have had a truly wonderful Christmas and are getting ready to welcome in a promising and exciting 2020.
Our door will be open from 7th January – please feel free to drop us a line to arrange to visit us for a catch up.
Love and blessings,
Chris and the Spirit in Sport team.