reaching the community
through sport
for christ
To promote social inclusion, good health and wellbeing, for the public benefit, by providing community and sports-based services and activities for members of the community in accordance with Christian principles, to prevent or relieve social and economic exclusion by reason of age, ill-health, disability, financial hardship or other disadvantage, including through sport activities for people who live, work, and play in and around the city of Portsmouth.
Spirit in Sport recognises the experience and potential of community members and involve staff and volunteers because their unique and valuable contribution enables us to enhance what we do in delivering a range of quality services. The team is at the heart of Spirit in Sport and our journey.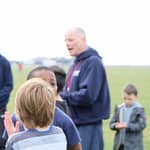 Andy
Office Manager / Sports Coach
Background to Chris here Background to Chris here Background to Chris here Background to Chris here Background to Chris here Background to Chris here Background to Chris here Background to Chris here Background to Chris here