Spirit in Sport are excited to announce that our Southsea Men's Shed is opening its doors across the week, every morning from Monday to Friday. Thanks to our ongoing relationship with the church where we rent our workshop space, and a recent funding grant, we are now able to welcome up to 30 men each week for 'tea, tools and time out!'
Spirit in Sport exists to support the local community; building relationships, growing young leaders of the future in a city filled with strong families. It takes all generations, living in harmony and good physical and mental health, to achieve this.
Our Men's Shed offers a friendly, safe, non-judgemental space for up to 5 men per session, to come along, work on private or public projects, while enjoying conversation, tea, and the camaraderie of days gone by.
Getting together to socialise and share technical skills and knowledge, has proven to help reduce feelings of isolation while developing a sense of pride and purpose amongst the group.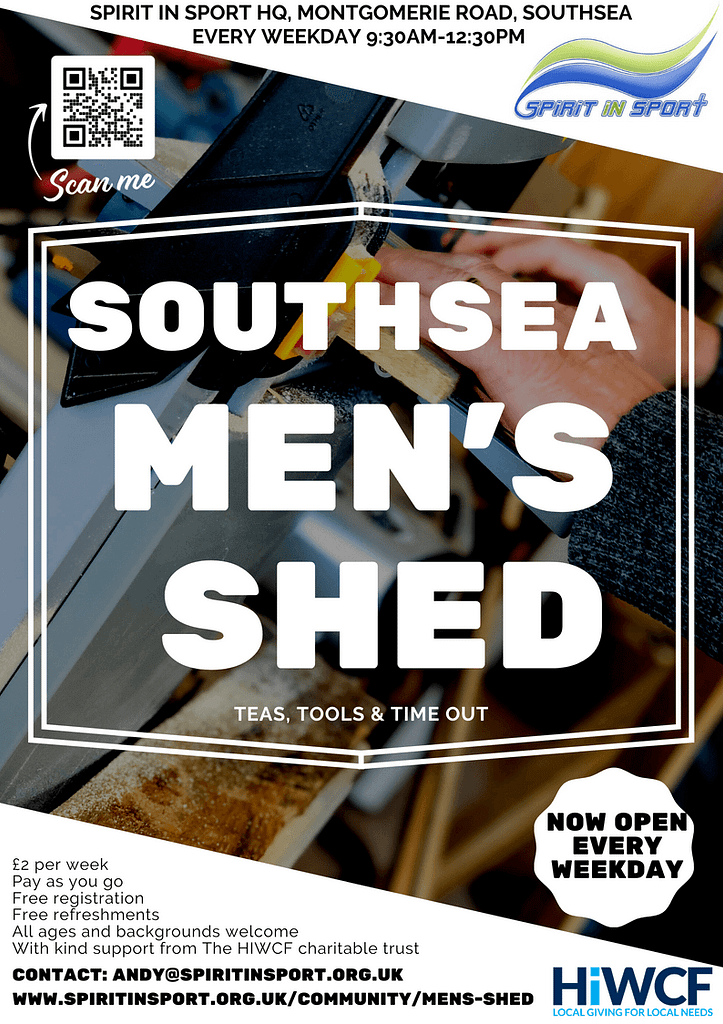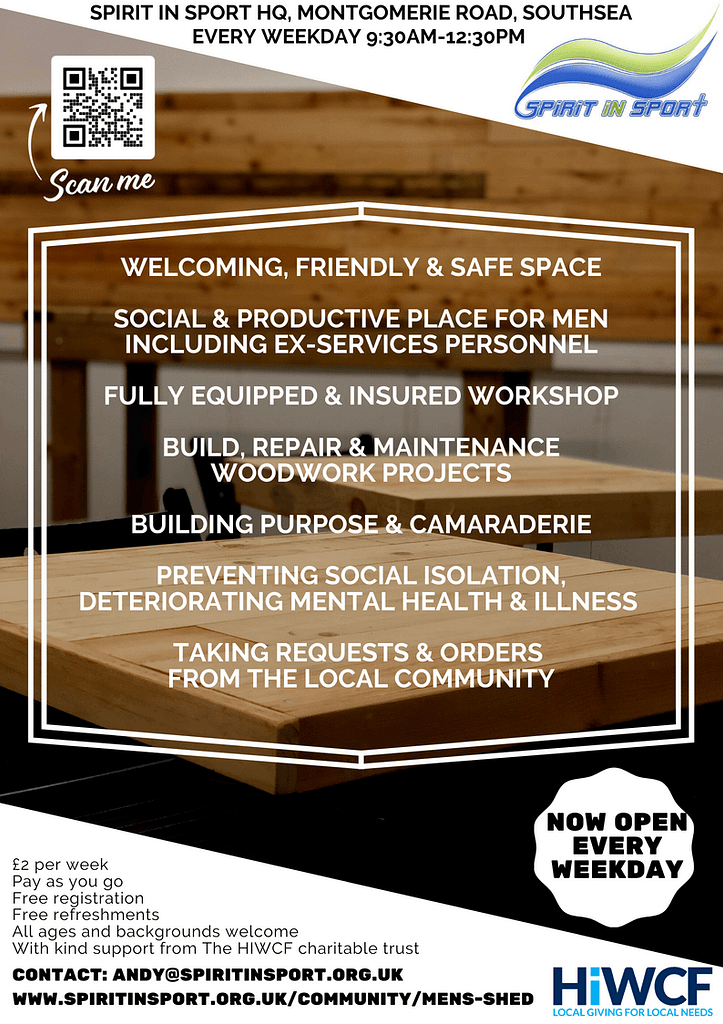 Opening the doors for more.
Over the past few years we have been blessed to operate from rooms and a sports hall upstairs at Immanuel Baptist Church, Southsea. Our vision is to become fully productive at the heart of our local community, every day and evening, every week, all year round, with a holistic programme of activities to support the local community.
Having agreed another year lease with the church, and receiving funding to support the Men's Shed extension, we are a step closer to the vision and can now open the doors across the week, maximising activity, productive and our safe space for men who miss the camaraderie of the workplace.
In particular, we are interested to appeal to retired men from the dockyard and local naval establishments, present and past.
But anyone is welcome.
As a recipient of a small grant from the Montagu Neville Durnford & St Leo Cawthan Fund through Hampshire and Isle of Wight Community Fund (HIWCF), we can continue to cover our rent costs while increasing the insurance, marketing, all important refreshments (30 men means a lot of teabags!), and additional staff hours for the longer opening times.
More tea means more productivity.
With this extra investment we hope to not only increase membership, but also the number of project requests from the local community and businesses, friends and family, to allow for the Men's Shed to become self-financing in the long term.
How to take part.
Anyone interested in becoming a Southsea Men's Shed member is welcome to visit us on a Tuesday morning to come and see the workshop in action, and meet some of our longer term members. If you like what you see and would like to take part, then we will talk to you about suitable and available times for you, order in some more tea-bags, milk and sugar, and look forward to welcoming you!
Just get in touch with us and we'll get the kettle on!