It's not long before new visitors to our rented facility in Somerstown open their mouths in surprise as they first enter the sports hall – a little known hidden space at the top of a discreet church building. And over the opposite side of the sports hall entrance is our new climbing wall.
One such visitor was Megan, who was keen to find out how she could get involved with the charity as a volunteer. A few weeks in, and quickly proving popular with our guests as she serves at Wednesday's Community Cafe, we asked Megan to tell the public more about our Climbing Wall and future plans!
Over to you, Megan!
Here at Spirit in Sport we are dedicated to coming up with new ways to bring our community together and provide activities for those who may otherwise be lonely or not active. We already offer activities for the elderly, the homeless, and younger people in the form of a Community Cafe, and Sports Camps. These have all been very successful at helping people to meet new and unlikely friends, and teaching those who participate valuable skills.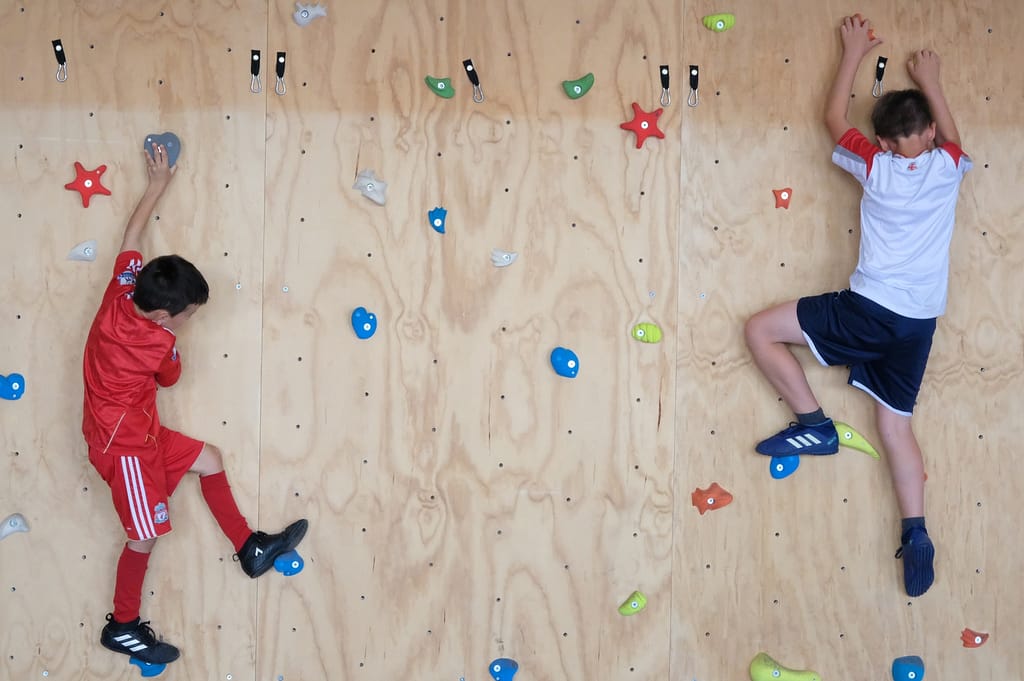 Our newest idea and addition to the church building is a rock climbing wall. Measuring 17 metres long by 3 metres high, and is suitable for ages 5 to 105, of any ability and experience.
So what is the wall?
A climbing wall is composed of varying handholds/footholds across a large area on a wall. It is designed to feel like you are climbing a mountain (albeit a very convenient one!)
The new climbing wall at Spirit in Sport, built by gifted volunteers from our Men's Shed, has an impressive 200 handles, and was built over 2 months in 2018, thanks to funds from a combination of sources including a Partnership Foundation grant and support from our regular donors.
There are varying levels of difficulty, meaning there will always be something to challenge you.
Our Purpose.
We think this is a brilliant way to bring the community together, as people can meet new friends, get out of the house, try something new and learn an impressive skill, or build upon it if they have past experience.
At Spirit in Sport we see many people who are facing challenges in life, and we try our best to help them overcome their worries and difficulties. The climbing wall is a brilliant way to do this; by channelling the energy going to worry or negative emotions into something physical and fun – this can help people feel more fulfilled and give them a distraction.
It is also symbolic of the way we can overcome challenges; many people facing the climbing wall will have no prior experience and will not know where to start, but with a lot of hard work and perseverance they can go higher and achieve more than they ever believed – eventually completing the wall. Much like in life.
'it is ok to fall and get back up again – we have crash mats!'
Climbing Higher!
Whilst we have already built a climbing wall, we aim to extend it to continuously cover 3 walls, making it a total of 45 metres long and 3 metres high.
This means we can include more levels of difficulty, and increase the amount of people suitable for this activity; for example, we aim to build a smaller wall suitable for younger children – however don't worry, in the meantime we have crash mats to prevent any injuries.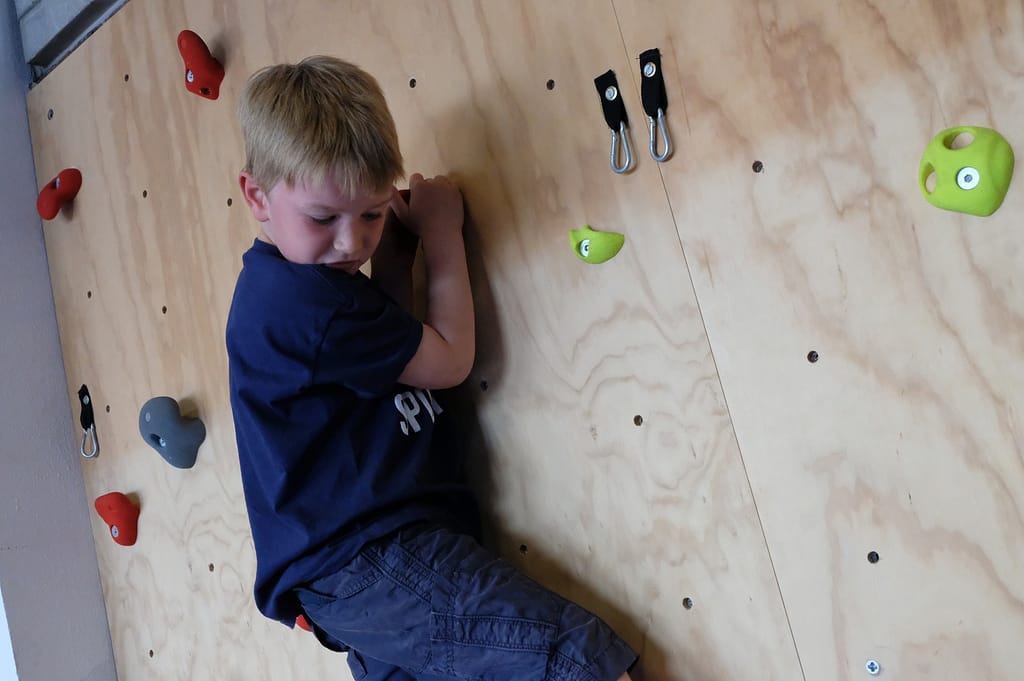 We aim to have the wall completely finished, using the help of our volunteers from Men's Shed, by early 2020. Once completed, we hope to have roughly 450 hand and footholds.
Because of the amount of handles we are installing, construction will take around 2 months, depending on how many are working on it!
The Jericho Challenge
Once completed, Spirit in Sport will be host to 'The Jericho Challenge'. This challenge is suitable for people of all ages, backgrounds and experience.
The Jericho Challenge is a way for people to push themselves by taking up the challenge of completing a horizontal climb from start to finish – across all 3 walls.
The opening date of our 3 side climbing wall will be dependent on donations.
Even if you're not participating, feel free to come and spectate with your friends or family.
You may even be inspired to start climbing yourself!
Anyone from the public is welcome to come and take part in our climbing wall challenge. We are also dependent on donations to complete our ambitious plans, as well as the generous support from volunteers like Megan. Please contact us if you would like to make a donation to help the work of Spirit in Sport and our own Jericho challenge!